I don't wanna be a buyer – I wanna be a seller – it's much more fun that way – lots of people wanting to buy. Except all the buyers have fled, the party is winding down, and a long dreary slump has descended on the City of Gardens.
August Real Estate sales plumbed new depths, with 358 Net Sales compared to 542 in August 2011, which was already a decade low.
Here is Garth Turner with more:
There are only 85,000 people in the capital city of BC, with about 330,000 in total in the urban area. And yet almost 200 houses languish for sale between $1 million and $2 million. Every day new listings and price reductions pour in. In less than a year, high-end homes have lost up to 20% of their value, most of that in the last 100 days.

The market turned here, seriously turned, about March. Last month 293 SFHs changed hands in the region, down 18.75% from June, and there's now a 10-month supply of homes. The average price is $580,563, which is still $100,000 more than in Toronto, with 20 times the population. But while the real estate board says things are balanced, nobody believes it.

Not the manager of the city's big-talk radio station, for example. Before we hit the air he described the anxiety that's everywhere now, as the local economy stutters and people doubt the holy grail of Victoria wealth – their houses.
That's nothing – things are just getting warmed up here on the Island.  Vancouver looks like Ground Zero and that's where the real action is – Here is my favourite  :
This magnificent WF estate on over 1/2 acre above Indian Arm's most dramatic cliff & rock formations. This res is wrapped in 270 degrees of coastline vws. Exquisitely crafted, taking 6 painstaking yrs to perfect offering 12,922 sqft w/milled beams, slate roof, crafted w'dwork, natural stone & hardw'ds, vaulted ceilings, timber & steel beam constr, stone FP's, Chef's kit w/breakfast bar, EA, adj FR, grand DR priv study. Kids paradise down w/custom I/D bsketb'll ct, state-of-the-art theatre, fabulous billiard rm w/wet bar, games rm w/professional dart board & air hockey arena. Most incredible hidden passage to a Old World wine cellar & guest accomm. BBQ centre, manicured lawns/gardens & OD F/P. A stunning work of art!
Address:2888 PANORAMA DR, Deep Cove, North Vancouver
| | | | | |
| --- | --- | --- | --- | --- |
| March 09 | V892989 | $12,998,000 | $0 | 0% |
| April 24 | V892989 | $10,998,000 | $-2,000,000 | -15% |
| August 22 | V892989 | $8,990,000 | $-4,008,000 | -31% |
Assessment: $5,947,000
I like the part about the 6 painstaking years to perfect.  A stunning work of art!   And it sure does sound nice!
Apparently Vancouver has 7,000 houses listed for over 1 Million.  Hilarious!  The entire U.S only has 5,000 houses listed for over 1 million!
Oh well, that was August right?   Everyone was at the beach.  September will be much better and everything will go back to the WAY THINGS USED TO BE or, even, I might say THE WAY THINGS SHOULD BE.  Right?  Right?
Or Not.
Want to see something really funny?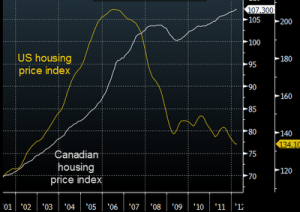 What could possibly go wrong?  It's different here! What do we care?  Wealthy Asians will continue bringing suitcases of cash to invest in the best place in the world to live right?
Well maybe not – and if not, what's coming isn't going to be pretty.
All very ominous signs given British Columbia's dependence on Real Estate and related industries for GDP growth.
One of the most worrying charts I have seen in a long time.  So if Real Estate tanks (Vancouver is down 20%ish and Victoria in the minor leagues with only 12% in July plus the worst Aug. in a decade) then the Provincial economy is heading over the proverbial cliff.
Lets see what the prognosis is:  Thousands are leaving BC seeking greener pastures and our natural resource exporting economy is grinding to a screeching halt as exports to China, the U.S. and Europe collapse.   Not "slow down"  or "moderate."  Collapse.  Canadian analysts say they are 'alarmed,' and 'very surprised' at the 'recent' slowdown.
Slow down in exports?  You don't say?  Recent?  Well, imagine that.  Looks like someone is asleep at their desk.
China has been slowing for some time and has now reached the not just slowing but really and truly hitting a brick wall stage with the happy halcyon days spent dreaming of a soft landing are long gone.   The investment bubble that has been driving Chinese growth has popped, and there are no quick "stimulus" fixes left.  There is the very real possibility of some form of financial crisis in China before year's end.  Lots of happy talking coming out of the Chinese government and others.  Don't believe it.
 Even the shadow banking system has completely collapsed.
Oh, and not to mention a once in a decade leadership transition which is not going well at all and proving to be very embarrassing, with Party Leaders arrested and their wife sentenced to life in prison for poisoning their money-laundering associate.  Oh, and party leader and Vice Premier 'disappearing' for 2 weeks, including a no-show at a meeting with Hillary Clinton, all due to a sore back and pulled muscle while swimming.  Then re-appearing and everything is fine.   LOL  And my personal favourite, a Party leader's son driving Daddy's Ferrari at high speed with two naked women playing a sex game common among the elite, or their children anyway.  Apparently they survived the ensuing crash, but we don't know who won the game, but I assume it was the 2 girls – generally in most games if you total a Ferrari you lose that round.  Which is too bad, and Dad lost his job so he lost too.
But I have digressed.
So what is coming?  
Higher unemployment for sure, and declining prices for natural resources and spin-off effects on, well, everthing.   The US is rapidly developing their own vast supplies of shale oil, reducing their dependency on the tar sands, which already faces numerous challenges.   There goes one of our biggest exports right there.  Europe is papering over their considerable debt and will be down for the count for at least a decade.
Housing prices will fall and GDP will barely keep above zero for the medium term.   Goverments face relentless pressure to balance their books in the face of rising costs in the form of higher unemployment,  lower tax revenue and lower natural resource revenues.  Expect continued and increasing pressure on public sector unions, as the old "give pay increases in exchange for labour peace and pay for it with debt" strategy has run its course.
Consumers are maxed out, and will not and cannot support a broad-based recovery.  And looking around, there doesn't seem to be anything or anyone that can support a broad-based recover for the foreseeable future.
So things are going to be grim all round and about to get very much worse, remain so for the foreseeable future.
What to do?
Don't spend money – Imagine how you would feel if you just bought a $2,000 TV and then lost your job?   Be really careful.
Stress test your finances and develop strategies for coping in worst-case scenarios.
Sell your house – depends on your situation and a whole range of factors.  A growing number of realtors are advising clients to sell now while the getting is good.
 Find recession proof industries – lots of industries boom while the economy as a whole languishes.    Find one, get in and hunker down!
(Visited 55 times, 1 visits today)