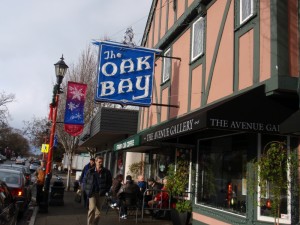 Yesterday while looking at real estate listings at an Oak Bay Realtor, a guy actually came out of his office to talk to me and see if he could be of any assistance.  Not like he was swamped with customers or busy closing deals.
In fact, it is worse!   Last month 14 houses in the most active price range ($500,000 to 900,000) sold.  So far this month, (17 days)  one one sale.  🙁
Anecdotal evidence from realtors suggest foreclosures in the Victoria area are increasing and banks sure aren't hesitating to slash prices.
More from Garth Turner
Days ago the realtors' national body said sales in June crawled higher from May, and were a little less than last June. Here is how it was reported by the MSM:
Residential real estate heat up in June (Global)
Canadian housing market rebounds in June (CBC)
Canadian home sales improve in June (Canada NewsWire)
Foreigners still see bullish on Canadian Real Estate (Wall Street Journal)
Home sales bounce back, but a rate test lies ahead (Globe)
Canadian home sales inch upwards (Toronto Star)
Calgary price growth for repeat home sales among best in Canada (Calgary Herald)
Well, you get the picture. The house-pumping never stops. And as more media outlets lose money and fire reporters, press releases from outfits like CREA or Royal LePage become news stories, with headlines and bylines slapped on. That suits the realtors just fine. But the death of journalism, as we knew it, robs people of dissenting or differing voices, making life more dangerous.
Here are a few things an informed public should know, in random order.
Sales of houses are not higher than last year. They're lower. The 240,068 units which changed hands in the first six months of 2013 is 7% less than during the same period a year ago. The statistics in the second half of the year will be, in comparison, dramatic. Anyone thinking they're safely buying into a rising market is being deceived.
Asking prices are dropping on a wide range of properties, in some cases, dramatically. A year ago I wrote a column here on a day-long tour I had of luxury homes listed for well over a million. Almost all are still available, or have been taken off the market. Others have been reduced in price by over $400,000, and still sit.
(Visited 48 times, 1 visits today)